In 2009 we launched the Red Eléctrica Forest, a project that contributes to the fight against climate change through the planting of trees and, at the same time, the conservation of a natural area rich in biodiversity or the recovery of a degraded natural area.

Each year we help to create a forest in a different geographical area of Spain, in publicly owned land, seeking the collaboration of various public bodies and organisations that work in this field.
By means of this project, Red Eléctrica offsets a part of its CO2 emissions, collaborates on biodiversity conservation and contributes to the development of the local economies through reforestation works that are carried out by local companies and organisations in the vicinity of the project.
With an investment of 1,8 million euros, we have planted 664 thousand trees and shrubs, recovered 7778 hectares of degraded areas and offset a little more than 184 tonnes of CO2.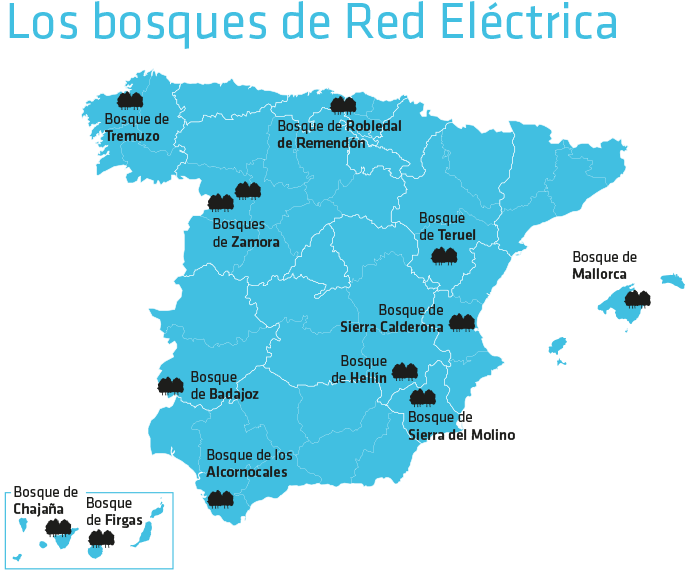 To date, we have the following forests: Badajoz Forest, Teruel Forest, Los Alcornocales Forest (Cádiz), Sierra del Molino Forest (Murcia), Sierra Calderona Forest (Valencia), Robledal de Remendón Forest (Vizcaya), Hellín Forest (Albacete), Majorca Forest, Sanabria Forest (Zamora), Tremuzo Forest (La Coruña), La Carballeda Forest (Zamora), Firgas Forest (Gran Canaria) and the Chajaña Forest (Tenerife).
New forests
In 2017 Red Eléctrica signed an agreement with the Island Council of Tenerife for the reforestation, using mainly canary pine, of 23.4 hectares of the area known as Chajaña in the La Corona Forestal Natural Park. The agreement responds to the interest of both entities to enable the protection and restoration of ecosystems through reforestation projects and the restoration of habitats aimed at biodiversity conservation.
On the other hand, it is foreseen to carry out another forest project during 2018 in Asturias: specifically, the restoration of 29 hectares of the Cordal de Santín and San Fernando highlands through the planting of native wooded vegetation (pine, oak, wild cherry and chestnut) for the restoration of the flora of the forested area, as well as for the recovery of the landscape.