Red Eléctrica carries out all its activities taking into account environmental protection, in accordance with the principles established in its environmental policy, including the commitment to prevent pollution and the principle of precaution.
The main environmental impacts of Red Eléctrica are those that arise from the presence of the facilities in the territory, which is why the Company works intensively to make them compatible with the environment, considering their entire life cycle and paying special attention to the conservation of biodiversity.
In addition, Red Eléctrica is committed to a sustainable energy model, thus acquiring a specific commitment to climate change and energy efficiency.
Red Eléctrica's commitment not only covers its own activities, but also extends to those of its supply chain.
Management system
In order to carry out a continuous improvement of environmental performance, Red Eléctrica has implemented an environmental management system certified according to ISO 14001 and registered, since October 2001, in the Community Eco-Management and Audit System (EMAS).
One of the fundamental elements of the management system is the annual environmental programme, the scope of which was extended in 2017 to include all the activities with an environmental component, in a global and cross-cutting way to the entire company, which is now called the annual environmental plan.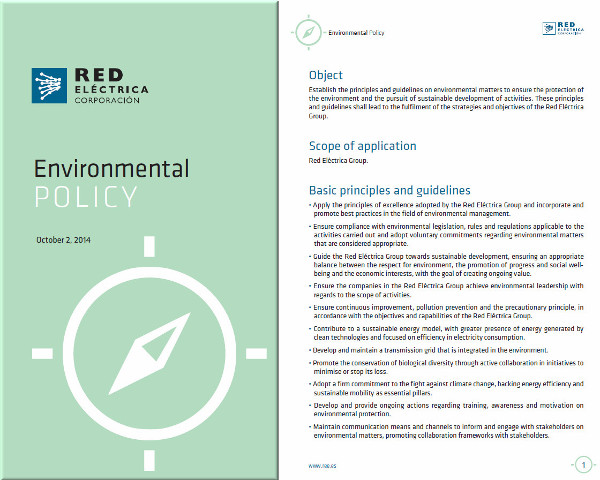 Environmental policy of the Red Eléctrica Group (Download PDF)
Circular economy and waste management
One of the main challenges set out in the environmental plan is 'To advance sustainable management of resources by incorporating criteria based on the circular economy concept'.
Red Eléctrica works on different projects with the goal of minimising the amount and hazardous nature of the waste generated as a result of its activities. Waste is derived mainly from three processes:
Preventive or corrective maintenance tasks: equipment inspections, changing of parts, oil changes, etc.
Improvements in facilities: renewal of obsolete equipment, adaptation of accident prevention systems, etc.
Actions to be taken when accidents occur: the containment measures used in the case of leaks or spillages and the clean-up works can entail a large amount of waste.
Given the nature of the Company's waste-generating activities it is very difficult to establish reduction targets, therefore the Company's efforts have focused on finding the best solutions for its final management. In this regard, work has begun on a pilot project for the implementation of a 'Zero waste' initiative in the work centres, with the objective of progressively expanding its scope to all the Company's activities.
Red Eléctrica is member of the Circular Economy Pact led by the Ministry for Ecological Transition, whose objective is to involve the main economic and social agents of Spain in the transition towards a new economic model in which the products, materials and resources are kept within the economy for as long as possible and in which the generation of waste is minimised. As a signatory, REE is committed to promote consumption responsible patterns. In this regard, becoming 100% circular in 2030, which include the target of zero waste to landfil. Red Electrica has made the following progress in the last 3 years in relation to this objective:
|   | 2016 | 2017 | 2018 |
| --- | --- | --- | --- |
| Non- Hazardous Waste disposed | 15% | 48.3% | 11.3% |
| Hazardous Waste disposed | 14% | 7.1% | 32.5% |