Supply chain
Supply chain
Red Eléctrica has in place a sustainable supply chain management model that is managed following the guidelines of the Company's Procurement Policy, among other mechanisms, and which is governed by the relationship framework established in the Supplier Code of Conduct.
Suppliers
The globalisation of markets has broadened the limits of responsibility of companies and brought about a change in the role of the supplier, whereby they now have taken on a more prominent role. In this regard, Red Eléctrica, which is governed by a responsible management model, has focused on extending its responsibility to the supply chain. The Company implements its management model based on the principles of non-discrimination, mutual recognition, proportionality, equal treatment and transparency, and follows the guiding principles laid down in a framework of legislative directives, and via internal Company codes, policies and regulations.
Social audits
Additionally, the Company integrates criteria regarding its suppliers' working conditions, occupational health and safety, environmental and ethics aspects throughout the entire procurement process. For relevant and recurring supplies, these requirements are verified in the initial supplier qualification process and, subsequently, in a continuous manner as part of the ongoing relationship the Company maintains with each supplier.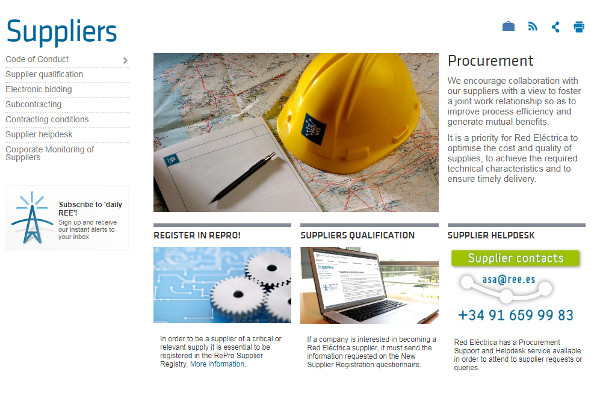 The Suppliers section of the web, provides all the information of interest for suppliers: ranging from the qualification process to how the relationship is managed and monitored.