The Group, within the framework of the development of good practices in sustainability matters and with the purpose of offering, on a voluntary basis, greater transparency on tax information for the different stakeholders, calculates and publishes its Total Tax Contribution, highlighting the relevant economic and social function derived from its tax contribution.
Total Tax Contribution in 2020
Taxes borne
Total tax contribution 2020
Taxes collected
Tax on profits, mainly Corporate Income Tax represents 76 % of total taxes borne that have been paid to the various tax authorities, mostly to the Spanish tax authority.
Total Tax Contribution during 2020 amounted to 743 million euros, 259 million euros corresponding to taxes borne and 484 million euros to taxes collected.
Of the total taxes collected during 2020, the taxes on goods and services are noteworthy, fundamentally Value Added Tax [1] which accounts for 78 % of the total.
[1] Understood as those indirect taxes equivalent to the Spanish VAT that are levied on consumption.
Learn more about the evolution of the Company's Total Tax Contribution in recent years. See more
Total Tax Contribution by tax category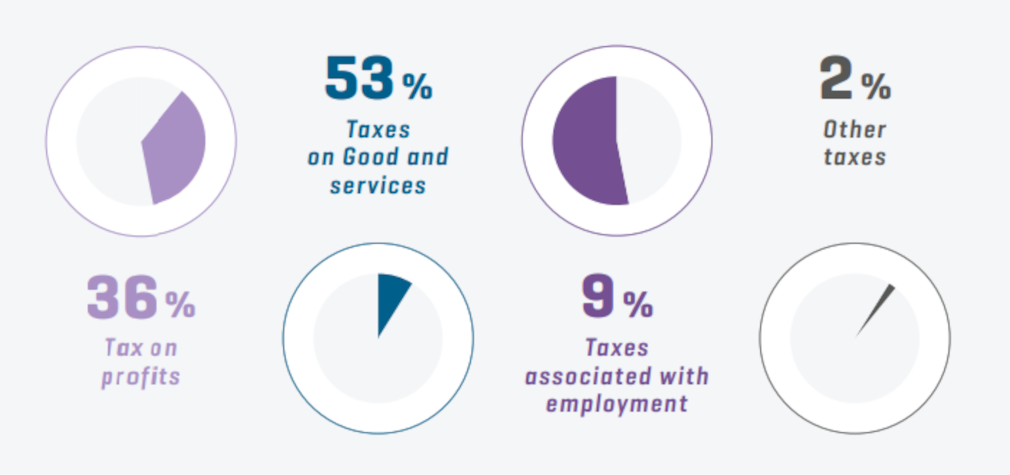 The Total Tax Contribution of the Red Eléctrica Group (€743 M) is distributed according to the following tax categories:
Tax on profits: 36 %
Tax on products and services: 53 %
Tax associated with employment: 9 %
Other Taxes: 2 %
Geographical distribution of the Total Tax Contribution

The revenue of the Red Eléctrica Group is mainly in Spain (97%).