Electricity link project Majorca-Ibiza
MAJORCA − IBIZA electricity interconnection: a pioneering interconnection and a technological challenge of the highest order.
The Majorca - Ibiza submarine electricity interconnection is one of the most important investments made by Red Eléctrica from the point of view of security of supply and the structuring of the territory as it connects the two existing electricity sub-systems in the Balearic Islands and connects them to the Iberian and the Europe electricity market. This new link strengthens the electricity interconnection process between the Spanish peninsula and the Balearic Islands, which began with the Rómulo project.
The main objective of this second phase of the Rómulo project is to finish with the current 'isolation' of the electricity system of Ibiza, in addition to saving costs for the system and promoting competition in energy generation.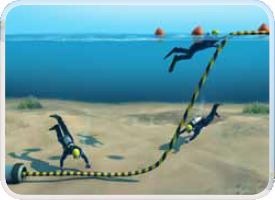 A record-beating submarine infraestructure
The second phase of the Rómulo Project has been carried out via a tri-polar double link which is 126 km in length. The electricity connection between Majorca and Ibiza is carried out using alternating current at a voltage of 132 kV and 2 x 100 MW of power..
The Majorca - Ibiza submarine double-link is world's longest in alternating current and the deepest of its kind to run along the sea bed at depths of up to 800 metres.