Grid manager and transmission agent
Red Eléctrica is responsible for the transmission of high voltage electricity in Spain. To do so, it manages the electricity infrastructures that make up the transmission grid and connects the power stations to the points where it is distributed to consumers.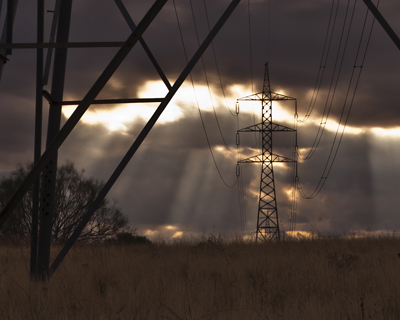 Law 17/2007, of 4 July, confirmed the status of Red Eléctrica as the manager of the transmission grid and attributed it the function of sole transmission agent under a regime of exclusivity. In compliance with this Law, in 2010 Red Eléctrica acquired the assets of the Balearic Islands and Canary Islands and the remaining assets on the Spanish peninsula that were pending transfer from the electric utility companies. This acquisition represented the definitive consolidation of the model of sole transmission agent and electricity system operator.
As manager of the transmission grid, Red Eléctrica is responsible for developing and enlarging the grid, carrying out its maintenance and managing the transmission of electricity between external systems and the Spanish peninsula and guaranteeing third party access to the transmission grid under equal conditions.
In-service facilities
The transmission grid of Red Eléctrica is comprised of more than 44,000 kilometres of high voltage electricity lines and more than 6,000 substation bays, and more than 93,000 MVA of transformer capacity. These assets make up a meshed grid that is secure and reliable that offers the highest level of service quality to the Spanish electricity system.

Transmission grid (peninsular and extra-peninsular) of Red Eléctrica. Data available at December 31, 2021
| Km of circuit | 2017 | 2018 | 2019 | 2020 | 2021 |
| --- | --- | --- | --- | --- | --- |
| 400kV | 21,735 | 21,737 | 21,748 | 21,764 | 21,768 |
| 220kV | 19,641 | 19,735 | 19,853 | 19,886 | 20,068 |
| 150 - 132 - 110kV | 524 | 636 | 697 | 753 | 753 |
| 110kV | 2,035 | 2,075 | 2,067 | 2,078 | 2,098 |
| Total | 43,934 | 44,183 | 44,365 | 44,482 | 44,687 |
Substation bays (peninsular and extra-peninsular) of Red Eléctrica. Data available at December 31, 2021
| Number of bays | 2017 | 2018 | 2019 | 2020 | 2021 |
| --- | --- | --- | --- | --- | --- |
| 400kV | 1,479 | 1,501 | 1,538 | 1,549 | 1,591 |
| 220kV | 3,214 | 3,261 | 3,340 | 3,319 | 3,376 |
| 150 - 132 - 110kV | 125 | 130 | 151 | 151 | 159 |
| 110kV | 853 | 903 | 922 | 951 | 978 |
| Total | 5,671 | 5,795 | 5,951 | 5,970 | 6,104 |
Transformer capacity (peninsular and extra-peninsular) of Red Eléctrica. Data available at December 31, 2021
| Power (MVA) | 2017 | 2018 | 2019 | 2020 | 2021 |
| --- | --- | --- | --- | --- | --- |
| Total | 88,744 | 91,626 | 91,591 | 93,021 | 93,871 |