European plan
European plan
One of the objectives of the European Union is to ensure that all European citizens have access to clean, safe energy at a reasonable price. Therefore, developing a European transmission grid is crucial.
In accordance with the 'Clean Energy for all Europeans' Package, and more specifically to the Regulation on the internal market for electricity (EU) 2019/943, of 5 June, 2019 repealing Regulation (EC) 714/2009, the European Network of Transmission System Operators for Electricity (ENTSO-E) prepares and drafts, every two years, a ten-year non-binding network development plan (TYNDP) that describes the expected evolution of the European electricity system over the period.
In November 2018, ENTSO-E published its latest ten-year plan that includes an executive report and four regional reports from each of the main corridors defined by the EU. Spain is in the "NSI West Electricity Corridor".
It also includes a cost/benefit analysis of 166 transportation projects and 15 storage projects that represent a total investment of €114 billion euros through 2030. Meanwhile, the most significant benefits of the projects will be:
In the case of the Spanish electricity system, four interconnection projects have been assessed (three interconnections with France and one with Portugal), as have nine internal projects and four storage projects.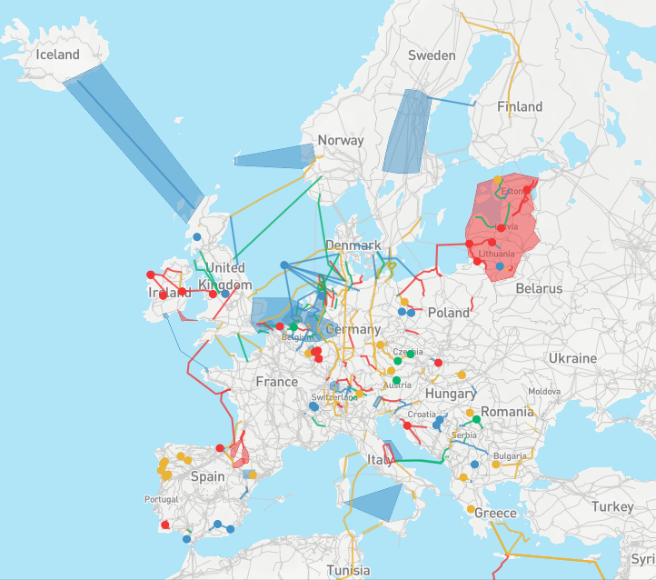 The details of each project can be viewed on the interactive map published by ENTSO-E.
The 2020 Ten-Year Network Development Plan (TYNDP) is currently being drawn up. This Plan has an associated scenario report that is published together with the TYNDP and which identifies relevant aspects such as: the long-term needs of the transmission grid and the electricity system with a 2040 horizon; the regional investment plans (Spain, Portugal and France form part of the Southwest Europe Region). The Ten-Year Network Development Plan document includes a cost-benefit assessment of all projects classified as relevant European projects of common interest. More information can be consulted on the ENTSOE website.